Users are able to buy and trade a variety of non-fungible token (NFT) items on the low-cost platform known as the Binance NFT marketplace. It has a special focus on gaming NFTs but also trades various collectibles, art, sports, and other items.
Customers in the United States are unable to use Binance NFT since it can only be accessed through the primary cryptocurrency platform that Binance provides. Find out if the Binance NFT marketplace is the best choice for you by reading our comprehensive assessment of it here.
Binance NFT Marketplace Review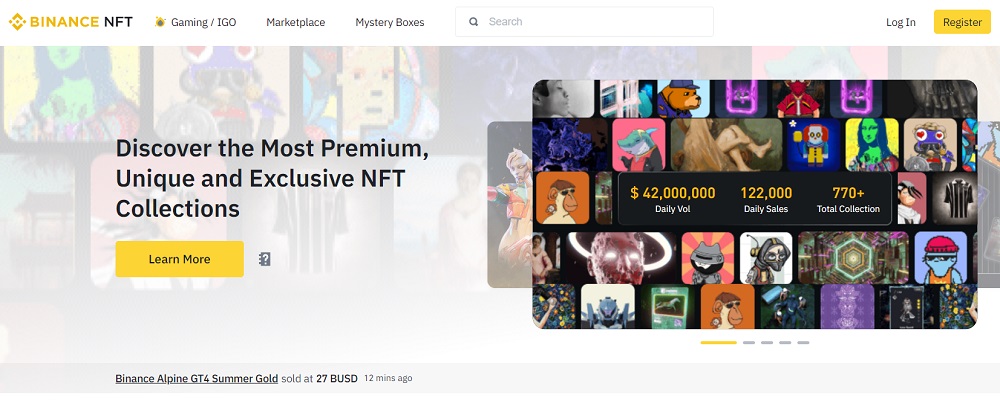 What is Binance NFT marketplace?
Binance is one of the world's biggest cryptocurrency exchanges. Its low-fee, user-focused service has made it popular with crypto traders, and it's done the same with its NFT platform.
Binance's NFT marketplace lets people purchase and sell art, gaming, sports, entertainment, and collectibles. The Binance NFT platform isn't available to U.S. residents. Binance.US does not trade NFTs for regulatory concerns.
Binance Best Offers
Non-fungible tokens, or NFTs, have seen a surge in interest over the past year. Similar expansion can be seen in NFT marketplaces. There are numerous types of NFT investors who would be interested in one platform over another.
Low fees
The transaction fee on the NFT marketplace Binance is a flat 1%, which is significantly cheaper than the fees at other major NFT marketplaces. Even on the Ethereum blockchain, users will still have to pay gas fees, which can quickly pile up.
If you use Binance's Smart Chain, however, you can cut your transaction costs in half. The cheapest NFTs are in-game items, although they can be found for as little as a dollar if you're a first-time buyer.
Big-name collaborations
Binance's prominence as a crypto exchange means it can attract high-profile initiatives. The company began holding high-end auctions with the Hermitage Museum and the Associated Press last year.
Extraordinary news events from the previous century, such as the collapse of the Berlin Wall and the launch of the first human into space, were included in the Associated Press collection. Binance has collaborated with popular culture icons including Vogue Singapore, Balmain Paris, and Jimmy Choo.
Gaming NFTs
Binance aspires to be the go-to platform for NFT gaming. There is a platform for introducing new games, known as an Initial Game Offering (IGO), and it also helps out with pre-existing NFT gaming initiatives. Brand new games may have land sales or content drops of unique assets like weaponry or early-access keys.
Axie Infinity has sparked a surge of interest in the blockchain gaming industry, and several startups hope to cash in on its popularity (AXS). NFT investors, however, should proceed with caution because of the sheer number of available projects. We don't know which projects will be successful, making their NFTs valuable in-game, and which will be unsuccessful, making their NFTs useless in-game.
Easy to use
Being linked to a major cryptocurrency exchange removes the burden of finding and transferring the appropriate cryptocurrency to a separate crypto wallet from the shoulders of novice NFT customers.
Binance is a complete solution, allowing users to deposit and exchange both crypto and fiat currency. Binance also provides a wealth of informational materials pertaining to NFTs, including as webinars for newcomers.
Binance Platform features
The Binance NFT marketplace is a user-friendly, feature-rich platform that lives up to the reputation of one of the most widely used cryptocurrency exchanges online. Trading fees on Binance are lower than those of many of its rivals, and users may purchase and sell NFTs through the app or a web browser.
There is a wide variety of NFTs available, with a concentration on gaming accessories. Users can't put dollars or euros into an NFT wallet, but it's simple to change fiat into cryptocurrency on the main site.
Services
Binance NFT allows users to buy, sell, and trade NFTs. However, at this time only verified musicians are able to mint their own NFTs on the site. On the marketplace, users can buy and sell items at set prices, hold or attend auctions, or purchase mystery boxes. Five Hermitage masterpieces or a collection of rare Associated Press moments are just two examples of the high-quality items up for auction.
Blockchains
Binance NFT allows users to trade on both the Binance Smart Chain (BSC) and Ethereum blockchains (ETH). Although Ethereum is the most widely used NFT blockchain, hefty gas fees have led to the rise of alternatives such as Binance's Smart Chain. Any user can use either crypto network to add or remove NFTs from their account. Only the Binance Smart Chain supports NFT minting at this time.
Supported wallets
Wallets are a viable option for NFT buyers who are concerned about the security of their investment. The following third-party wallets are compatible with Binance:
WalletConnect
MetaMask
Binance Chain Wallet
Many traders choose to keep their digital assets in what is known as a custodial wallet on the exchange where they were initially purchased. Binance boasts that its custodial wallet, known as the Secure Asset Fund for Users (SAFU), is extremely safe and protected by the platform's own insurance fund.
However, many NFT collectors choose transferring their purchases to a personal crypto wallet. When it comes to NFT wallets, MetaMask is among the greatest and most well-known options. The problem is that it's not the only option available. Binance's Binance Chain Wallet is compatible with WalletConnect as well.
Payment methods
Users can trade NFTs with Binance Coin (BNB), Binance Dollars (BUSD), or Ethereum (ETH). Because of its integration with the Binance cryptocurrency exchange, the Binance NFT marketplace has a lot going for it. Even while users still can't pay with cash to acquire NFTs, it's simple to deposit fiat and then convert that into crypto.
Fees
When you purchase, sell, or generate an NFT on one marketplace, you pay one of several different fees. Some are required by the platform itself, while others are the gas fees required to conduct a transaction on a given blockchain.
The price of gas varies widely between different transportation methods. The most widely used cryptocurrency, Ethereum, is also the most expensive. The fees on Binance's Smart Chain are extremely low compared to Ethereum's.
Here's a summary of the fees on Binance NFT marketplace:

What NFTs can you buy on Binance NFT marketplace?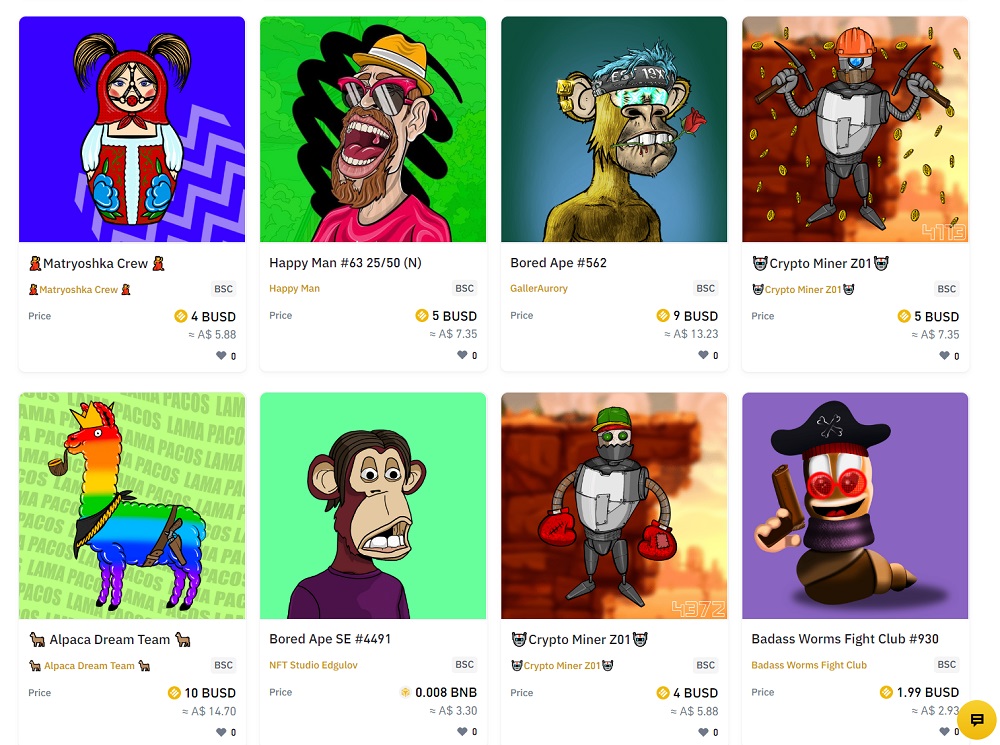 Binance NFT marketplace has many NFTs. NFT for Good, premium, art, sports, gaming, entertainment, collectibles. NFT for Good is Binance's charitable collection.
Binance announced it had over 1,000 artists and 2.5 million NFTs by 2022. Categories, file types, sale types, and currencies are filterable. The price is displayed in your local currency, thus no need to convert BNB or ETH.
Binance is the largest gaming NFT platform. It's an IGO for new gaming projects where individuals may buy land or in-game things. The Binance NFT marketplace sells mystery boxes that may contain common or unusual NFTs. The buyer pays a fixed sum for a mystery box without knowing what's inside.
Is Binance NFT marketplace safe to use?
Many NFT traders prioritize security after high-profile platform attacks. The Binance marketplace lacks a security page that explains how it protects users. Binance's SAFU fund insures platform-stored assets, as indicated above.
Binance has user-level security. Binance has anti-phishing and two-factor authentication. It encourages users to set account limitations, reducing malware and fraud. NFT withdrawals may need facial verification for added security.
Fraud is a huge issue in NFTs, especially minting without the creator's authorization. We contacted Binance about this. It said it has rules to check content authenticity, but it wouldn't share them. It has a fraud-fighting team.